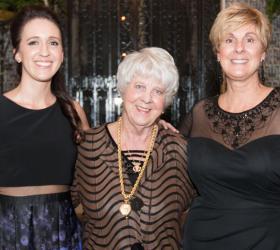 Sep 28, 2016
Believing in the Arts
Spotlight Date:
September 29, 2016
Download Original
]" class="imagefield imagefield-lightbox2 imagefield-lightbox2-spotlight_thumb imagefield-field_spotlight_photo imagecache imagecache-field_spotlight_photo imagecache-spotlight_thumb imagecache-field_spotlight_photo-spotlight_thumb">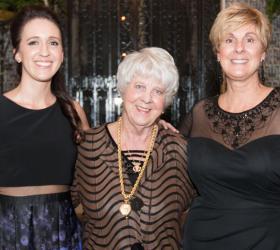 Josephine Wurster grew up in an environment that encouraged interest in the arts. "My mother got me interested in the arts at a very young age. She took me to plays when I was young, anything that she could do to give me an appreciation for the arts." This must run in the family, as her granddaughter Melissa Glosmanova is a Dreyfoos alumna and teacher in the Digital Media department, fondly known by her students as 'Mrs. G.'
On her grandmother's committment to the school, Melissa said that "the importance of art was impressed upon me by my great grandmother, who was a sculptress, and was passed down to my grandmother who has always encouraged me to make work and help others do the same."
"I love the arts. I thoroughly believe in them, 100%. I believe more should be done for the arts in schools and think it is an important part of a student's education." Her interest in Dreyfoos only made sense, and Mrs. Wurster has been a dedicated supporter of the Foundation, attending the Prism Concerts, musicals, Foundation events, and our 25th Anniversary Gala last year.
"I thought you all did a fantastic job with the Gala – the string quartets playing by the pool, the artists drawing at their horses. I purchased one of those drawings right then and there, from last year's valedictorian Catherine. My granddaughter is having it framed for me and it will be one of my prized possessions to remember the evening."
Josephine's support that night did not stop there, she was the highest bidder on one of our most sought after auction items – a chance to name a character in a James Patterson book. She chose to name this character in memory of her husband, whom she lost five years ago. 'Johnny Flyboy Wurster' will be immortalized in one of Mr. Patterson's soon-to-be bestsellers.
Apart from the Gala, Mrs. Wurster remembers the 1998 Theatre Department production of Into the Woods as her favorite performance although she says "I have not seen one that I have not liked. It is amazing the talent these young adults possess."
For Mrs. Wurster, supporting the School of the Arts Foundation makes a difference for the whole community. She believes that when people see Dreyfoos performances and gallery shows, it helps them to realize how important the arts are.
"The children that go to Dreyfoos really want to be in school and it is a really wonderful place because of that. I think that it is one the best schools in the state."