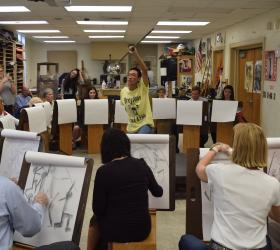 May 18, 2016
Banking on Dreyfoos
Spotlight Date:
May 19, 2016
Download Original
]" class="imagefield imagefield-lightbox2 imagefield-lightbox2-spotlight_thumb imagefield-field_spotlight_photo imagecache imagecache-field_spotlight_photo imagecache-spotlight_thumb imagecache-field_spotlight_photo-spotlight_thumb">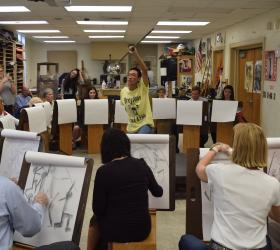 Over the past five years, PNC Bank has been very supportive of the Dreyfoos School of the Arts Foundation. They have sponsored various events and series, such as our Guild Musical Luncheons, One Night Only, and a cocktail reception held before the annual Prism Concert. They have even had an employee on our Board of Directors since 2013.
On supporting Dreyfoos, we spoke with Gail Horvath, Senior Vice president and Managing Director of PNC Wealth Management, who said that "Today, Palm Beach County has a vibrant local art scene, and businesses have more of a common interest in learning how corporate and cultural partnerships can positively affect their enterprises. We understand that a rich arts community is a significant driver of our economic success, but more importantly, people who learn about the arts early in life are more likely to remain involved and connected to the arts later on."
Recently, through a donation facilitated by Ms. Horvath, they have begun supporting our new "Behind the Scenes" series. These intimate and exclusive events give donors and supporters a firsthand look at Dreyfoos art areas.
At our most recent event, our guests took part in a class experience, learning about the Visual Arts and Digital Media departments at Dreyfoos. Teachers Leigha Foy-Phillips, Peter Stodalak, and Melissa Glossmanova oversaw as Dreyfoos students taught attendees in green screen photography, figure drawing, and Photoshop keying.
"The inspiration, passion, and diversity of this series is exciting. Hearing first-hand from the artists and professors about the creative process and the hard work that's necessary to create important works of art is enlightening and motivating. The "Behind-the-Scenes" series allows PNC to share these stimulating evenings with our clients, while supporting the Foundations efforts to showcase how Dreyfoos is working within the community to promote arts and culture."
Thanks to PNC, these events will continue to excite and motivate supporters who will get to see the magic of Dreyfoos in a new way.
"Our confidence in the power of engaging cultural programs to strengthen communities and our commitment to the arts is felt in every market we serve. So much so, that earlier this month, PNC pledged $510,000 over three years to arts organizations in Broward, Duval and Palm Beach counties. Our collaboration with arts programs and the Dreyfoos School of the Arts presents many opportunities for training, education, and innovation that will lead to concrete connections between business and the arts in Palm Beach in the future."
As the Foundation moves forward to plan more of these special "Behind the Scenes" events, we are grateful to be one of those programs that PNC supports.